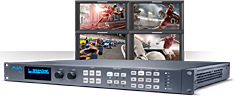 AJA is now shipping their new FS4!
List price for this high-quality 4K/UltraHD frame synchronizer and up, down, cross-converter, is $4995. Please call Rich today at (516) 797‑9100 for your price.
EOS Technology Group has received the prestigious Trompeter
"Broadcast Dealer of the Year" Award.
EOS is your Premier Distributor for Trompeter HD Broadcast Connectors.

We stock UPL2000D1B, UPL2000D2B, UPL2000D4B, UPL2000D6B, UPL2000D7B.





Call us now for fast delivery!